If you live in North Carolina, you've probably heard of Delta-8 THC, the newest cannabinoid gaining traction in the market. Like other hemp-derived cannabinoids, Delta-8 comes from the raw hemp plant material and offers a wide range of effects and benefits.
But before you head to nearby smoke shops to buy Delta 8 THC, it's important to understand the potential side effects. Delta 8 THC offers a great experience when taken properly, but there are some side effects that you need to be aware of.
Our goal is to give you the safest experience when taking medical or recreational marijuana. That's why we've compiled a comprehensive list of the side effects of delta-8 THC. We're also answering some of the most common questions people have about Delta 8 Vapes North Carolina, from its legal status, to how you can purchase it in North Carolina.
Keep reading to learn more!
What Happens When You Take Delta 8?
Let's start by talking about what you can expect when you take delta-8 THC.
Delta-8 THC is a cannabinoid that naturally occurs in the plant cannabis sativa. Its chemical structure is very similar to delta-9 THC, which is the compound that gets a person high. Since delta-8 is also a psychoactive substance, it gets you high. However, many users report that the effects of delta-8 are much less intense than delta-9 THC.
This is because delta-8 THC is far less potent. This is why you can expect more balanced and manageable effects.
That said, it's important that you buy high-quality delta 8 THC products in North Carolina if you're looking for the best experience.
Remember, delta-8 doesn't occur in high amounts in cannabis. So, manufacturers can't extract delta 8 THC by simply processing hemp plants. Instead, they have to synthesize the product from hemp-derived CBD.
Some manufacturers use unsafe chemicals and methods to synthesize delta-8 THC. And if you want a safe and enjoyable experience, it's best to avoid these manufacturers.
So, now that you know what happens when you take delta-8 THC products, it's time to get into the side effects.
Common Side Effects of Delta 8 THC
Everyone's delta-8 THC experience is different. The side effects of taking delta-8 THC can vary from person to person, which is why we recommend starting with a small dose to get a feel of the cannabinoid. To give you a better idea of what to expect when taking delta-8, here's a quick rundown of the common side effects that users report.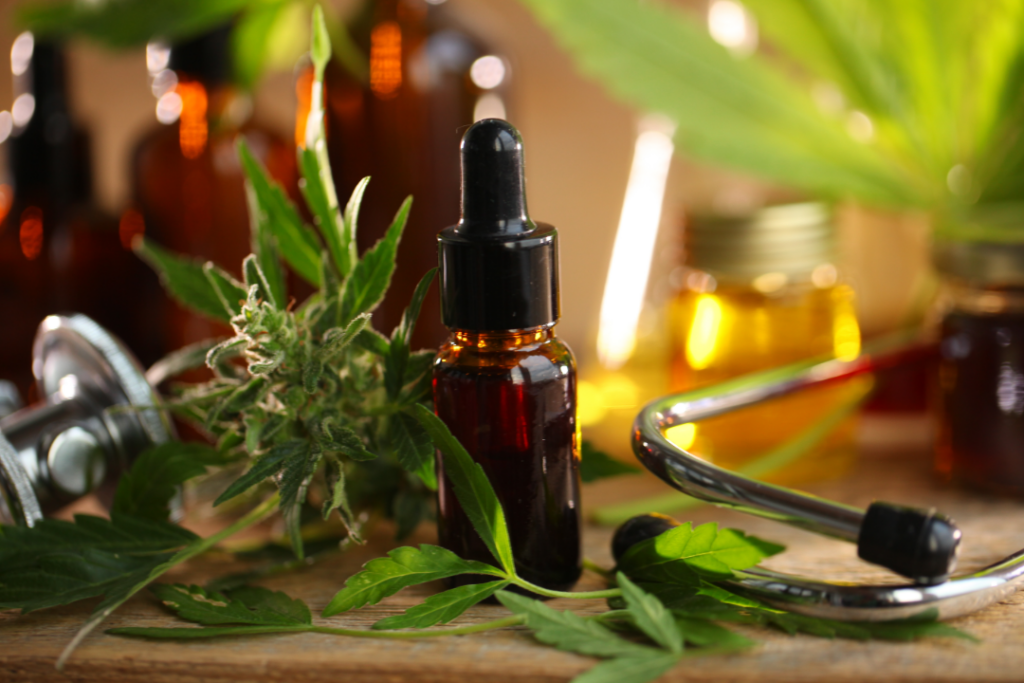 Anxiety
The most common side effect of taking delta-8 hemp-derived cannabinoids is anxiety. Delta-8 THC activates similar parts of the brain as delta-9, which is known to cause anxiety in some people. This is why those prone to anxiety might want to avoid delta 8 and try other medical marijuana products.
Dry Mouth
Delta-8 can reduce the production of saliva. This is why these hemp-derived products can cause dry mouth, which is why it's important to stay hydrated when taking the substance.
Increased Appetite
Delta-8 activates the same areas of the brain that controls hunger. This is why many users report that delta-8 causes increased hunger and a stronger appetite.
Delayed or Slowed Reactions
Delta-8 causes similar effects to delta-9 THC. This is why you may experience delayed and slowed reaction times when taking the product.
Mood Alterations
This hemp product is known to cause mood alterations. Again, delta-8 products from cannabis plants are psychoactive, this is why they may get you high and alter your mood.
Related:
Managing the Side Effects of Delta 8
When taking any type of medical marijuana in North Carolina, it's important to have ways to manage the side effects. Many delta-8 products are available for commercial sale, which is why it's on the users to follow the best practices when taking delta-8, and this involves managing the side effects.
The first tip we can give you is to learn all you can about the effects of the marijuana plant. When taking any hemp plant products in North Carolina, knowledge is power. So, read up on all the potential side effects of delta 8 and other hemp-derived products before buying for yourself.
When taking hemp flower and similar delta 8 products in North Carolina, it's best to be prepared. Since the plant can cause dry mouth, we recommend having water nearby to stay hydrated.
Additionally, make sure that you know if the products are for animal or human consumption. There are many delta-8 products on the market that offer different effects. And for the best experience with delta 8 in North Carolina, make sure to get the right products for your need.
Is Delta 8 Legal in North Carolina?
Because of the Farm Bill, delta-8 is federally legal. While these products are still on the North Carolina controlled substances list, you can legally purchase them under federal law. Federal law states that a hemp plant with 0.3% or more delta-9 THC is not allowed. However, it doesn't say anything about delta-8, which is why you can legally purchase it in North Carolina.
How to Purchase Delta 8, North Carolina
In North Carolina, delta-8 falls under the controlled substances list. While it's a controlled substance, it's still fairly easy to purchase in the state. You won't need a medical card or prescription to purchase legalized hemp in North Carolina stores.
In fact, all you need to purchase these hemp products is to be 18 years old or older. Most local stores will sell cannabis products to anyone that meets the age limit. However, this only applies to North Carolina, so if you live somewhere else, make sure to read up on state laws before purchasing.
So, if you're looking for delta-8 in North Carolina, simply go to any online or physical store, show them your ID, and let them know which delta 8 or CBD products you'd want to purchase. Click here to read about Improving the health of all Australians: the role of preventative health.
Conclusion
Because of the Farm Bill, North Carolina residents can purchase delta-8 and CBD hemp products from their local stores. But before trying delta-8 yourself, make sure that you understand the side effects of the substance. That way, you go into the experience informed and with as much knowledge as possible.